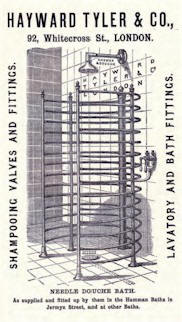 The shower cabin, at the bottom of the original staircase, shown here on the left, has been converted into a cosy nook for frequenters of the bar, and an opening has been made allowing those sitting in the plunge pool area to be seen.
Originally, the cabin would have been used by bathers coming down to the Turkish baths after changing in the upstairs cooling-room, or after sweating in the baths, before returning upstairs.
The plunge pool had two additional showers which would have been used before entering the pool: the first was an ordinary one in its own enclosure; the second was a circular needle douche shower, a type which was very popular at the turn of the century.