Turkish baths in the British Isles
still open to the public, or to members of clubs:
2. Scotland

PLEASE NOTE …
that this list includes only Victorian and Victorian-style Turkish baths (as defined in the Introduction to the website). Such baths circulate heated dry air through one or more hot rooms. The list does not include sauna, banya or Russian (steam or vapour) baths.
Some Victorian Turkish bath establishments have later added such facilities, but they are not part of the Turkish bath process itself.
There are currently eleven Victorian and Victorian-style Turkish baths still open in the British Isles.
Eight of them are in England (only two of which were built during Queen Victoria's reign); the three Scottish baths are all Victorian-built.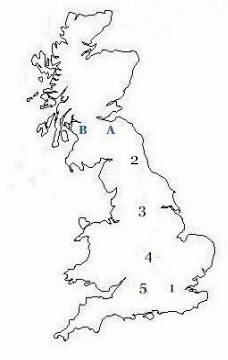 KEY

A Edinburgh
B Glasgow

1 London
2 Carlisle
3 Harrogate
4 Northampton
5 Swindon







Opening times and the designation of sessions (as being for men, women, couples, mixed, or naturist) change frequently, so this guide gives addresses, phone numbers and, where applicable, websites only. You should also note that even though establishments may not have closed down permanently, they may close from time to time for repairs or 'refurbishment'. Do contact the baths first before paying a visit, and check when they are currently open.

EDINBURGH
Portobello Swim Centre
57 Promenade
EH15 2BS

0131 669 6888



Victorian

Sessions: men, women, and mixed.
Full details of times, prices, etc, on their website.

GLASGOW CLUB
Arlington Baths Club
61 Arlington Street
G3 6DT

0141 332 6021



Victorian

The club is for members only, members being required to pay an annual subscription.
Full details of membership, and much else, on their website.

Naturist sessions are organised by the independent Scottish Outdoor Club.

GLASGOW CLUB
Western Baths Club
12 Cranworth Street
Hillhead
G12 8BZ

0141 339 1127



Victorian




The club is for members only, on payment of an annual subscription.
Full details of the club's subscriptions, facilities, history, and much else on their website.