9. Terminology and architectural style
At first, and for some time, the bathing community was concerned about how Turkish, if at all, was the Turkish bath. In the main, this was reflected in the equation of 'wet equals Turkish; dry equals Roman' and articles and pamphlets described the advantages of each.5

Since the Victorians settled for hot dry, ie, Roman baths, several writers suggested that they should properly be called Roman baths35 (as the proprietors of the baths in Cambridge decided) rather than Turkish baths.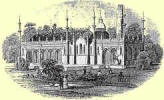 Yet Turkish baths they remained, and the feeling grew that they ought at least to look a little Turkish. Not all architects agreed. In 1861, W H Hay, designer of the Turkish bath at Lochhead, gave a controversial lecture to the Liverpool Architectural Society on the construction of the bath and was reported in Building News as saying:
I have adopted the Turkish or oriental style of architecture with a touch of Eastern grandeur, so that the Turkish Baths might not be altogether a misnomer to the uninitiated; nevertheless, there is a very large demand made upon the practical skill and experience of an architect in the erection of works of this kind.
But I was employed to design Turkish baths, and Turkish baths they must be; to arrange the interior as I pleased; but the bulbous domes and gilded minarets must appear in all the cheapest and most showy style, so that the Oriental character might be realised as freshly as from a perusal of Lalla Rookh.
I should be inclined, however, to recommend a thoroughly English style of architecture as decidedly preferable to this.36
Nevertheless, for some time, the pseudo-Saracenic-style was chosen for many new establishments in places as diverse as London, Leeds, Brighton, Limerick, and Dublin (Leopold Bloom's 'mosque of the baths' in James Joyce's Ulysses37), to name but a few.



And in 1899, Saxon Snell was still asking in a paper to the Royal Institute of British Architects,
By the way, why should it be considered necessary to adopt exclusively Eastern forms and decoration in Turkish baths?38