The early years
The Royal Pump Room and Baths was originally built in 1813 by Charles S Smith at a cost of nearly £25,000, opposite Jephson Gardens.1 Though profitable when first built, by 1848 the fashion of 'taking the waters' had begun to decline and in 1860 the then owner, the Hon Charles Bertie Percy, put the Pump Rooms up for sale.2
On 12 September 1861, the Leamington Royal Pump Room Company Limited was formed with a nominal capital of £8,500 divided into 1700 shares of £5 each. 3 The new company 4 took over,
this extensive property, with the spacious grounds at the back,…not as a pecuniary speculation, but in order to give greater publicity to the healing virtues of the Leamington waters, and to afford greater facilities to invalids for testing their efficacy.
After extensive construction work, the building was re-opened in 1863 and in addition to the 'greater facilities' for imbibing the healing waters, there were now Turkish Baths as well as hot, tepid, cold, douche, plunge, shower and swimming baths.
The new Turkish baths
The Turkish baths suite comprised an apodyterium (changing room), labrum (washing room), caldarium (very hot room), tepidarium (warm room), and frigidarium (cooling-room). The hot and warm rooms were square, with barrel vaulted roofs, while the cooling-room boasted a dome and pointed horseshoe arches with stained-glass windows. Here, bathers would relax and drink tea after going through the hot rooms.5
Five years later, in 1868, the company, under the chairmanship of John Haddon, sold the land and buildings to the Town for £15,000 with no outstanding debts and with all surplus moneys distributed to the shareholders. These 127 shareholders, holding 1647 shares between them, had retained their investment during most of the company's life.6
The management of the baths was now undertaken by a committee of the Local Board of Health under a Special Act of Parliament.7
George Elson's time at the Turkish baths

When George Elson (originally a chimney sweep) and his wife were appointed to run the Turkish baths in 1875, they were used by not more than a dozen or so bathers per week. Under the Elsons the numbers soon built up to between fifty and sixty each week. Elson was extremely popular and well-respected, and was clearly in control if ever discussions threatened to get out of hand.8
One night, while sitting in a hot room registering a hundred and sixty degrees of heat, two bathers commenced discussing that much debated question—the 'Tichborne Claimant.'9
Both being well posted upon every tittle of evidence which supported their side, not a moment was lost, as at it they went hammer and tongs, neither allowing the other to finish a sentence, and in their vehemence perspiring profusely all the while, and all the more by reason of their excited arguments, till half an hour, then three-quarters passed by, and as neither appeared on the point of giving in, but rather were waxing hotter and hotter in their arguments and temperature, feeling their health was likely to suffer, I was obliged to request, and then to insist, on one of them coming to be shampooed, and very reluctantly one gave way.
The clientele at the Leamington Turkish at that time often travelled from as far afield as Banbury, Rugby, Coventry, and Stratford-on-Avon. They came from a variety of occupations and were by no means all of one class including, as they did, 'some few noble lords, many squires, numbers of professional men, military and naval, athletes and jockeys, and a few doctors.' Elson proudly mentions Fred Archer the jockey, Richard Proctor the astronomer, and the comedian J L Toole among the famous persons he looked after and shampooed.
Into the twentieth century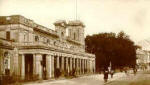 A larger pool was added in 1889 and it remained the town's public swimming pool for 100 years until 1989.10 There was another extensive refurbishment in 1926 which this time included the Turkish baths.11 Three hot rooms could be kept at temperatures of 120°F, 150°F and 210°F, the ducted air being first heated by a coke-fired hot air furnace. Stale air was carried from the rooms through floor level grilles thereby ensuring that there were five complete change of air every hour.12
The hot rooms and complementary Russian steam bath were, according to a contemporary guide, 'luxuriously fitted up' with the result that they would 'compare favourably with any in the kingdom.'13 Such luxury was not expensive, tickets for Turkish Baths with shampoo costing 24/- for a book of twelve during the early 1930s.
Closure, and after
But by the 1970s, the initially 'luxuriously fitted' baths, and the restaurant added to the frigidarium, had become decidedly unattractive after years of make do and mend.

At the end of the decade,5 the Turkish bath,
began to lose more and more money and various weekday services were cut, more seasonal services were introduced, and eventually in c.1977 [it] was shut to the public.
The remainder of the baths complex closed a decade or so later in 1989.
By the mid '90s the Turkish baths suite, closed now for about twenty years, was in a bad state of repair.
The window in the frigidarium alcove (seen above) had been removed (photo immediately above, left) and bricked up on the outside (immediately above, right), and other areas were in such bad condition that demolition appeared to be the only solution. Fortunately, however, when a new museum and library complex was planned for the site, it appeared feasible to retain the structure of the cooling-room.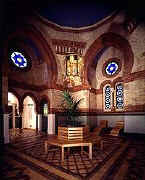 This has now been beautifully restored, as closely as possible to the original design.