The Grenville Place Turkish baths were built in 1859 by Dr Richard Barter. They opened soon after his patients began using the very first successful modern Turkish baths at St Ann's Hill, his hydropathic establishment in Blarney.
Barter's first experimental beehive-shaped bath, built there with David Urquhart in 1856, had not been successful. He therefore sent his artist namesake, Mr Richard Barter, to Rome to find out how the original Roman baths were built. This enabled him, later in the year, to construct a more satisfactory bath, although even this one was still rather steamy and liable to burn the soles of the feet.
But Barter was a perfectionist who continued to work on any problem he encountered and who took a delight in trying to improve each of his baths throughout its life. It is reasonable to assume, therefore, that the baths in Grenville Place were based on those at St Ann's, with a few minor changes.
| | | |
| --- | --- | --- |
| | | In support of this view, it is interesting to note that as late as 1863—five years after the baths opened—Barter was still using a woodcut image of a women's hot room at St Ann's in his advertisements for the Grenville Place baths. The advertisement, like earlier ones, still took pains to reassure potential women bathers by indicating that the baths had separate entrances for men and women, and private dressing rooms rather than communal changing rooms.1 |
According to Robert Wollaston, speaking in Cheltenham2 after the baths had been open just over six months, '4,376 persons had used them, and…they had all expressed themselves well pleased.'
An early advertisement for the baths3 indicated the opening times and entrance charges. From 11.00 in the morning till 5.00 in the afternoon admission cost 2/-, or 20/- for twelve tickets. This was reduced to 1/- (and 10/-) between the hours of 6.00 to 10.00 in both the morning and evening. Children under 10 were admitted at half price, but only if accompanied by an adult. All these charges 'included the use of linen', but shampooing cost an additional 6d. On Sundays, the baths were only open between 10.00 and 5.00.
In designing and constructing these baths, Barter went back to first principles, making good use of his newly acquired knowledge of the Roman baths visited by his namesake. Unlike the humid Islamic hammams which Urquhart had visited on his travels in the Maghreb and the Ottoman Empire, the Roman frigidarium, caldarium, and laconicum were all heated by dry air channelled under the floors by means of a hypocaust. This allowed bathers to withstand the higher temperatures which Barter found to be more effective therapeutically.
For this reason, he called his Turkish baths 'The Improved Turkish or Roman Baths'. This had the unfortunate effect that in some circles he was thought to be arrogant and boastful. But Barter was not suggesting that he had improved the Turkish hammam, the main function of which was to be an effective cleansing agent; rather, that the Roman bath was an improved therapeutic agent, therapy being the main function of hydropathic establishments.
By the end of 1862, Barter was already dissatisfied with his Grenville Place baths and opened new ones on 23 February the following year, just twenty days after the opening of his Turkish Baths for the Destitute Poor in Maylor Street.
It is not known how much rebuilding was actually undertaken at this time but it seems most likely that only the inside—the baths themselves—were rebuilt.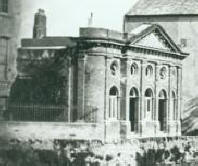 Courtesy of the National Library of Ireland
During their first ten years, an average of over 18,700 bathers per year (or well over 360 bathers per week) used the new Grenville Street baths.4
It is not known when these baths closed, but at some stage, probably towards the end of the 19th century, the building was converted. The building which still stands on the site today (2006) is now a block of apartments, as tall as those to be found on its right.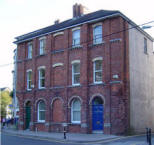 < Photo: Shifrin
At first glance, it appears to be a completely different building, but a closer examination suggests that the ground floor façade is the same, but the top of the original building has been demolished and replaced by two additional floors.
Closer examination seems to confirm this. The ground floor door and window openings have been interchanged, and the corners of the front of the building remain rounded at the ground floor level. There is also a fire call plate marked 1858 FC, remounted on the side of the building. These plates were to indicate to any insurance company's fire brigade arriving on the scene that it was a building insured by them which was on fire. (See the enlarged image).

We are so accustomed these days to buildings being totally demolished and replaced that it is difficult to understand the reason for this strange conversion. One possibility is that, at the time when the conversion was carried out, labour was cheap while building materials were comparatively expensive, but this is only conjecture.
---
---