1. The Barter years
At some time around 1867, Dr Richard Barter ceased to have any connection with the Turkish Bath Company of Dublin Ltd or with the Lincoln Place Turkish Baths which he had built for them. The exact reason for his departure may never be known but the proposed introduction of moisture into the hot rooms may have been the main issue.
He immediately decided to open another Turkish bath in Dublin, this time to the north of the River Liffey. He would have felt it important that the new baths should clearly be seen to follow the principles which had governed the design of all his earlier establishments. He set about looking for a suitable site, and on 17 June 1868 advertised his requirements. 6
Wanted immediately to lease or purchase a suitable site in a central part of the city, the north preferred, for the erection of a first class Turkish Bath; a good residence would be desirable.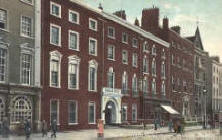 The advertisements brought a quick response and Dr Barter was able to open his second Turkish bath in Dublin7 less than a year later on 17 March 1869,1 just eighteen months before he died. It was built as an extension at the rear of a typically Georgian building, until then known as Reynold's Hotel, situated at numbers 11 and 12 Upper Sackville Street, and now known as (Upper) O'Connell Street.3
The baths were built behind the hotel. All the public rooms, together with the thirty bedrooms, were refurbished, and the establishment was then renamed the Hammam Family Hotel and Turkish Baths.
Leading off the entrance hall was the galleried cooling-room and dressing rooms. Just beyond were four separate suites of Turkish baths, two large ones for men, one for women, and a private suite which could be made available for men or women. There were also private rooms with hot, tepid, and cold water baths.
As bathers passed from one hot room to another they were able to experience temperatures ranging from 120-230 degrees Fahrenheit. The rooms were heated by a type of underfloor hypocaust and bathers were provided with cork-soled slippers to ensure that they did not burn their feet on the floors.
The fittings and furniture were reported to be both costly and luxurious, with the ladies' apartment being 'even more sumptuously furnished and decorated than that of the gentlemen's'. During the day the rooms were ventilated and lit by frosted or stained glass windows and skylights; by night the painted lamps and gasoliers produced lighting which was considered to be 'most brilliant and effective'.
Unlike the baths at St Ann's, which were part of a hydropathic establishment, the Hammam baths included a comfortably furnished 'waiting or smoking room for gentlemen'. An arched corridor led to the men's baths, with 'appropriate inscriptions, inculcating the excellence and importance of thorough cleanliness' painted in ornamental letters on each arch, and lit at night, like the other rooms, by coloured lamps and a double row of gas jets.
But there were, adjoining the baths, separate coffee-rooms for men and women, with an ice-cream soda water apparatus which produced 'eight different kinds of delicious drinks, to cool and refresh the bather'.
As well as building the baths so that the hot rooms were dry and gave bathers an effective Turkish bath, Barter also ensured that the design and furnishing of the bath was special, for the original Lincoln Place baths were still open and would be competing for business. He seems to have succeeded. As one writer put it,
When the whole building is lighted up it has more the appearance of a scene in one of Scheherazade's beautiful tales than of a solid, bona fide brick and mortar business in the centre of a great city.1
As with all Dr Barter's baths, apart from St Ann's, the day to day running of the establishment and its 'numerous staff of efficient attendants' was entrusted to a manager, in this case Mr James Walsh, who had previously run Barter's Turkish baths at Bray.8
Dr Barter died on 3 October 1870 and the Hammam, as part of his estate, passed to his eldest son, Mr Richard Barter, who wisely retained Walsh as manager. Although Richard Barter's main interest was in agriculture and the farm at St Ann's, he still kept a close watch on the Turkish bath establishments and was not slow to make improvements, even to one which was not yet two years old. Within three months of taking over the Hammam he had decided that the catering needed improvement and transferred Joseph Shorthall from St Ann's, to become its Catering Manager.9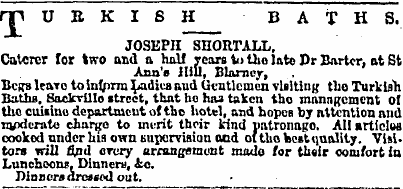 Barely a month later, an additional set of baths was opened adjoining the original ones, which were now to be redecorated and reserved for the use of women bathers.10
The new baths were on such a scale that they can only have been part of Dr Barter's original plan. The cooling-room was 70 foot by 34 foot wide, and its 25 foot high ceiling allowed for fifty-five cubicles to be ranged around the room and on galleries above, each cubicle upholstered and curtained off. The room itself was carpeted and amply supplied with seats and recliners. The main hot room was 60 foot by 30 foot, maintained between 120 and 150 degrees Fahrenheit; the smaller room was kept between 180 and 200 degrees. A range of different types of shower complemented a six foot wide cold plunge pool, seventeen foot long. This clearly met with bathers' approval; during the first three months the new baths were open they were catering for around 200 bathers each day.11
Walsh retired in 1873, being 'presented with a purse of sovereigns by a number of the frequenters of the Turkish Baths, as a mark of esteem,'12 and was briefly succeeded by William Henry Kelly.13