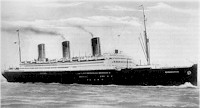 The RMS Berengaria had its origins as the German-built Imperator. It was transferred to the White Star Line after World War I as compensation for the sinking of the Lusitania, beginning its new life in 1919. It's first masseur and Turkish bath supervisor was probably Arthur Mason, whose young assistant during 1935 was fifteen year old John Dempsey.
The Turkish bath suite comprised at least two hot rooms, with parquet floors and tiled with small Italian mosaic designs. Since there was a direct connection to the swimming pool, most bathers arrived in their dressing gowns and it was part of Dempsey's job to show them to the changing cubicles and take them to the first hot room. Each was provided with towel, jug of drinking water and a glass.1 After about twenty minutes in the hot rooms the perspiring bathers were taken to a table where raffia brushes were used to remove dead skin.
Next to the hot rooms was the shower with its big-jet hose pipes. Stimulating and therapeutic, the jets were sprayed onto the customers following their Turkish bath, after which they were helped to dry off and returned to their cubicle, covered with towels and told to relax prior to their massage. The massage room had a central table and raffia brushes were used to soap the bathers before their massage. Mason, a professional masseur who had trained under Sir Robert Jones, used a massage lotion made to his own recipe which he taught his young assistant:
Slivers were shaved off a bar of Knights Castile soap into a large bottle. Hot water and '365' Eau-de-Cologne were added along with a dash of olive oil. The bottles had to be kept hot in a basin of water to prevent the solution solidifying. The concoction, which was quite pliable and pleasant to use, became a lifetime standard for me and I never used anything else. An alcohol rub or '365' Cologne was also patted onto the body in the cubicle. It had a satisfying smell but its main purpose was to close the pores to prevent a chill setting in.
Many well-known males, including the Prince of Wales,2 took advantage of the facilities on the Berengaria. They included Johnny Weismuller (the screen Tarzan), comedian Phil Silvers, actor George Arliss, NoŽl Coward, and H G Wells. There was no Turkish bath for women passengers.
Mason left the Berengaria in 1936 to run the Turkish bath on the new Cunard Queen Mary. Much to his dismay, Dempsey was not immediately allowed to accompany him, but the person appointed proved unsatisfactory and after a few return voyages, Mason asked for Dempsey to be allowed to become his new assistant.