Ironmonger Row: traditional Victorian-style
Turkish bath

The Turkish baths in the basement, designed by architects AWS & KMB

Cross,1 were reached from the main staircase in the older building. They included three hot rooms at appropriate temperatures with a complementary cooling-room, a vapour room, a plunge bath, a shampooing room with two shampooing slabs, and two thermostatically controlled showers, one of which was of the fine needle variety.

Cream was the dominant colour. The inner walls were faced with glazed earthenware tiles, the floors of the hot rooms and plunge pool covered in non-slip mosaic (the latter relieved by a black border) and the whole surrounded by a cream terrazzo skirting. Hardwood blocks covered the floors of the cooling and rest rooms while the former was clad to a height of 6ft 8in with hardwood panels.
Hot air for the Turkish bath was provided by a gas-fired air heater. A centrifugal fan drew fresh air in from outside the building, passing it first through a filter, then through the heater, into the laconicum (hottest room). There, a thermostat automatically shut down the gas if the planned temperature was exceeded. After passing through the other hot rooms, the cooled and, by now, impure air was finally discharged through a duct behind the seating to a high level outlet.

The temperatures in the caldarium (hot room) and tepidarium (warm room) were simply controlled by curtains across the communicating openings between the rooms. The cooling and shampoo rooms, however, were separately warmed by low-pressure steam radiators and a mechanical system of ventilation was used to ensure an adequate supply of fresh air.
Ironmonger Row, just outside the City, seems always to have had a reputation for friendliness and companionship. In the late 1930s, when the weekly Turkish was a regular part of an East Ender's routine one could find a group of 'middle-aged women huddled together for a chinwag… probably the wives of the Yiddish-speaking jewellery shop owners and…car salesmen who helped build the East End baths' reputation' as a suitable place for business deals.2
Thirty years later, when admission was still only six shillings, the women's sessions were still considered 'more friendly than Porchester Hall'.3 After passing through the hot rooms at 120°, 150° and 190°F and happily submitting to the pummelling of Florrie and Frances, the women's masseuses, one could still get a pot of tea for a shilling or a poached egg on toast for 1/4d.
Prices began to rise steadily in the 1970s. Although 11,600 bathers used the baths during 1971/72, this was an 8% decrease in the number of bathers during an equivalent period a decade earlier. Yet, deceptively, this represented a relative increase in usage since the population of the area served by the baths had actually decreased by 23% during this time.4
By 1990, a Turkish bath cost six pounds, but this still included a body rub. A year later this had risen to £7.50 and the clientele was changing as a younger group took to taking a Turkish at the end of a day's work. Indeed, one writer noted that the 'expensive automobiles parked nearby indicate that some City fat cats like to unwind at high temperatures' and that 'it's unlikely that they will have to share a bench with any but the more affluent Islington residents' who might well be 'talking about share prices and their Tuscany villas.'5
But although refurbished a little earlier, the baths still had 'the ambience of a Thirties' swimming baths—comfortable, clean and functional, but not glamorous'. Furthermore, it had managed to retain 'a very informal, workaday atmosphere'.2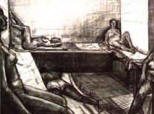 As another writer put it,6
the greatest pull of all is undoubtedly the company. The same women have been meeting in the same Turkish baths for years; and though they claim that they wouldn't recognize each other with their clothes on, they know all the ins and outs of each other's lives.
Ironmonger Row obviously succeeded in ensuring that it was easy to feel at home with friends and to be able to relax freely in a state of nakedness. This is important since it is a pointless exercise to enter a Turkish bath in order to generate a cleansing sweat while clad in a clinging costume. The generation gap here sometimes shows itself in an unexpected way. As one woman put it, 'It spoils it when the younger ones wear swimming costumes…It makes you feel uncomfortable.' For many bathers, the ability to relax without a stitch on in the company of others is clearly an essential part of the Turkish bath.
The baths after the 2012 outsourcing
In 2012, after a closure of many months for a multi-million pound refurbishment under the aegis of Greenwich Leisure Ltd, trading as Better, the baths re-opened. Regular bathers, and others with an interest (including this website) who had been 'consulted' by the architects, Tim Ronalds, looked forward to using the baths again and seeing the results of the consultation.
Regular bathers were disappointed to find that their views on the usage of the baths had been totally ignored. Like GLL's conversion of the baths at York Hall, Bethnal Green, the baths had been turned into a luxury day spa in which the hot rooms survived (though hardly hot in a Turkish baths context), but were no longer an identifiable Turkish bath.

They certainly look beautiful but, as with all GLL baths, costumes were now compulsory even for single sex sessions, and the previous long-standing multi-cultural, multi-class Turkish bath community had disappeared, priced out of what had now become a glorified beauty parlour. Taking a traditional Victorian Turkish bath is now no longer possible. Indeed, the only mention of Turkish baths on GLL's website is the phrase 'Turkish baths, brought to you through Spa Experience by Better.'
As one writer to this website put it:
In the past the baths were full. And full of women of all ages and a total ethnic mix. There just four white women in the baths when I was there. And three others as I left. Lovely facility, totally spoiled by the petty rules. It will not become a diverse meeting place again with these rules. If I wanted staff to tip toe passed me and call me madam I'd go to The Sanctuary.
It will not be surprising if the hot room spaces are converted into other uses in the not too distant future.