Nevill's Turkish Baths for Ladies
At one time or another the Neville family owned nine Turkish baths, all of them in London. Of these, four were in reality twin establishments, built next to each other in pairs. The larger one was for (Gentle)men; the smaller one was for women (Ladies).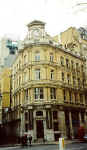 Each of baths in Northumberland Avenue was, from the bathers' point of view, quite separate with its own entrance: that for women was round the corner in Northumberland (now Craven) Passage .
There seems to have been no external indication, visible from Northumberland Avenue, that there was a Turkish bath delightfully decorated in Moorish style within the building. But planning regulations were probably less restrictive in the narrow pedestrian passageway from which access to the women's baths was gained.
Here it is still possible to see the horseshoe arches surmounting the (now blocked) doorway and the pairs of windows on either side. Also to be seen are the panels of decorative tiling below the upper floor windows.
In his book on the Turkish bath, published a few years after these baths were opened, Robert Owen Allsop remarked that, 'as at the old Pompeian BalneŠ, the [women's] set are ungallantly cramped into a very small space.'1
But although they were considerably smaller, the ladies' baths were, in general, decorated in the same way as the men's baths. The enlarged plans show the relative sizes more clearly, the women's areas being left an untinted white.



As in the men's baths, there was a pay desk in the entrance lobby. The facilities comprised two relaxation (frigidarium) areas, a warm area (tepidarium), two hot rooms, and a plunge pool. The women's pool was about 20 ft long. The main difference, apart from size, was that the women's baths had a chiropodist's salon, while the men had a smoking room, refreshment bar, and hairdressing salon.2