3. The lower levels conversion
Half way down, a landing originally led directly into the plunge pool mezzanine, complete with its own showers. This ensured easy access both for bathers coming up from the hot rooms, and also for those going down from the cooling-room.
At the bottom of the stairs one can go left or right. As Helen Parton wrote,
The mezzanine and basement areas are a little labyrinthine, with small rooms bearing off in all directions; for the first-time visitor, it is difficult to get one's bearings.5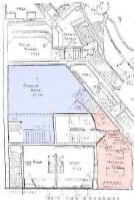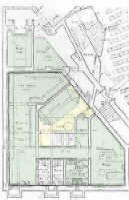 Apart from the cooling-room and plunge pool, the Turkish bath boasted a showering 'cabin', a shampooing room with marble slabs for two bathers to be treated at the same time, and three hot rooms arranged so that the air temperature increased as the bather progressed towards the boiler house end of the baths.
No area specifically designed for changing has so far been positively identified, but bathers probably undressed in the cooling-room which might well have contained clothes lockers. It is impossible to say for certain how the cooling-room was furnished as there are no longer any traces of the Turkish bath in this part of the building.
The shampooing room is no longer open to view—the marble slabs were removed years ago by a previous leaseholder; the room is now used as a store and contains a lift shaft serving the theatre. Neither is it possible to see the hottest of the hot rooms or the boiler room, both of which have been blocked off.
A more practical alteration has been that the two toilets which used to serve the original shops have been transformed into a modern washroom to serve the bar's women customers.