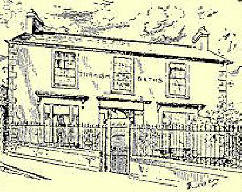 Not much is yet known about the early history of this Turkish bath, set up two or three years after the first Welsh establishment opened at Church Place, Neath, in 1864. From the chronology, it seems that Thomas Atkins ran it with his wife until the incorporation of the Merthyr Turkish Bath Co Ltd in 1871. This company originally intended to build a new Turkish bath. Perhaps closer investigation suggested that the town would not be able to support a second establishment, or the company was deterred by the cost. However, for whatever reason, the directors decided that the easier way forward would be to purchase the existing bath and get Atkins to remain on as manager.
Some time between 1881 and 1884, Thomas Atkins died and a new manager, Edmund Frayley, was brought in from Neath where he had been manager of the Church Place Turkish baths since the early 1870s. The company retained Atkins' widow Mary to manage the baths on Tuesdays when they were reserved for use by women.
By 1890, the company seems to have been in financial difficulties. The baths had been in existence for over twenty years and it could be that they were now in need of major refurbishment which the company could not afford, or which a reduced number of bathers discouraged them from undertaking. A liquidator, David Robert Lewis, was appointed, and he sold the establishment to William Pool.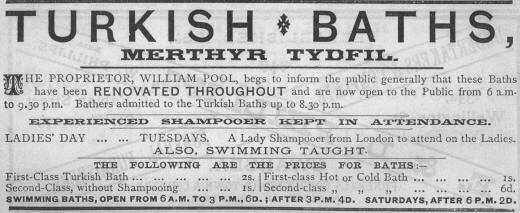 Pool immediately set about renovating, improving, enlarging and publicising the baths.5 And he wasn't shy about making claims for the therapeutic benefits of the Turkish bath, claiming that it was specially recommended 'To sufferers from Rheumatism, Colds, Sciatica, &c', claims which were not unreasonable compared with those of many others who claimed the bath as a medical panacea.

As was so often the case, an establishment which was unable to make a profit large enough to satisfy its shareholders, continued quite satisfactorily to provide for the needs of a sole proprietor.
In 1897, a local business directory included an advertorial for the baths which gives a good impression of how they looked after the renovations.6
To the left of the main entrance was a carpeted reception room and, to the right, the cooling-room with changing cubicles and velvet covered divans for relaxation. Refreshments were available from an attendant who could be summoned 'by just touching the electric bell push overhead.'
Two hot rooms were maintained at temperatures of 140°F and 200°F, and there was a shampooing room clad in chocolate coloured glazed bricks, with a 'shower bath apparatus'. There, according to the advertorial, 'by scientific manipulation at the hands of a trained masseur, every nerve and muscle of the human frame is restored to its natural action and elasticity'.
The Turkish bath also included a 36 x 25 foot swimming pool equipped with an aquatic trapeze and swinging apparatus by means of which 'the swimmer may disport and launch himself with ease into shallow or deeper water, as he may desire'. An earlier reference to the swimming pool indicates that if was from three to six feet deep.7
The baths were last noted as being open in 1918.8