A mental marriage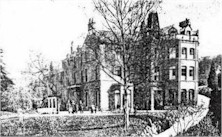 The setting for part of Gertie de S Wentworth-James's novel A mental marriage is a hydro which she calls Dimpley Oak. This is based on the West of England Hydropathic Estab-lishment at Limpley Stoke, near Bath, in the mid-1920s.
Clearly, the management of the hydro was not displeased for it included a quotation in its prospectus, remarking that there were also references in various other novels. (Anyone know any others?)
The building, after a number of changes, is now the home of Limpley Stoke Hotel.
A Mental marriage Gertie de S Wentworth-James (Hurst & Blackett, 1926)