4. Styling the bath
Undoubtedly, the finer points of nomenclature , as a conscious or subconscious form of heritaging, will not have been realised by too many bathers. But the choice of a bath's architectural style, and its internal decorative scheme, were more clearly 'in your face'—either as marketing decisions, as we saw with Cambridge, or political decisions, as with Urquhart's London Hammam.
It is important to realise, however, that of approximately 600 baths so far identified, only about 20% were purpose-built. The remainder, usually owned by a sole proprietor, were in existing buildings, mainly shops and houses, and occasionally even churches.
Of the purpose-built baths, two thirds were built by local authorities and were swimming pools or wash-houses, with Turkish baths incorporated. Their style was 'local civic'.
Of the remaining 55, all save one were built by private clubs, hydropathic establishments, or small limited liability companies, for all of whom the cost of an unusual design would have been a major disincentive.
Nevertheless, in addition to the Cambridge Roman baths, seventeen buildings, or about a third, were designed to echo what was called the Saracenic style of architecture.
These are what might be called 'set piece' Turkish baths: Cuthbert Brodrick's Leeds building was his own cut down version of an even grander design; Goulty's Brighton baths, even with their modern cinema canopy, retain a certain elegance; while in the days before every large city had at least one mosque, Hatchard Smith's Dalston building, immediately opposite the railway station, was its own effective sales pitch.
If doubt remains that these Saracenic buildings sought to heritage the baths, we should note that twelve of them were built between 1856 and 1868—while the bath was still establishing itself.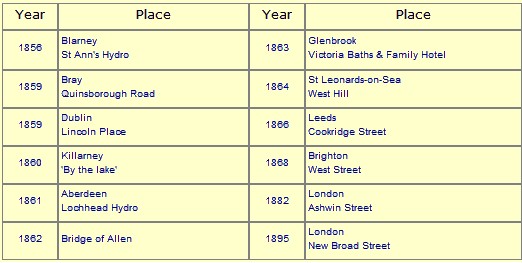 Thereafter, apart from the Scottish clubs, Dalston, and one the many Nevill's establishments, no further baths were built in this style—it was no longer necessary.
Furthermore, private Turkish baths within the homes of the wealthy, had no need to sell themselves. So they range from the plain, as in Cragside and Wightwick Manor, to the idiosyncratic Gothic splendour of Avery Hill.
There were discussions about architectural style in professional journals, especially around 1861. Architects asked whether the baths had to look Turkish, or perhaps even Roman.
In a lecture that year at the Liverpool Architectural Society a cynical W H Hay, who had been responsible for the design of the Turkish bath at Lochhhead Hydropathic Establishment, Aberdeen, the previous year, admitted that he would now recommend 'a thoroughly English style'.
I was employed to design Turkish baths, and Turkish baths they must be; to arrange the interior as I pleased; but the bulbous domes and gilded minarets must appear in all the cheapest and most showy style, so that the Oriental character might be realised as freshly as from a perusal of Lala Rookh.
For political reasons again—this time civic pride—despite accusations of extravagance at the ratepayers' expense, several local authorities made an attempt to follow a Turkish style, if only by the inclusion of ogee windows and doorways. But sometimes, as in Harrogate, Dunfermline and Birmingham, they succeeded.
But in most house and shop conversions, the internal decoration was about as authentically Turkish as Ingres' painting of a brothel is an authentic representation of an Islamic hammam.
Nevertheless, an attempt was made to look authentic.
The bath needed its adopted heritage as a sales asset, and had to seem, at least, to belong to a tradition.
But of one thing we can be absolutely certain: the Victorian Turkish bath is now a part of our heritage, and it's a heritage which is rapidly disappearing.