Since the Turkish baths could not be seen from Queen Street or the Market Square opposite, proprietor Jenkins fixed a sign above the entrance to Plume of Feathers Yard to indicate how they could be reached. This detail from a 1904 photograph of Queen Street looking northwards shows the two arms of the sign attached on either side of a bow window, and joined in front to form a triangle. Above, can be seen part of a painted sign and, below, a protruding hanging sign, both advertising the ironmongery shop which Jenkins also owned, which was entered directly from the street.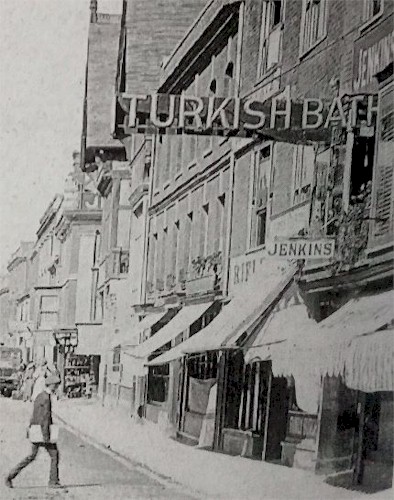 Some time around 1905, a new sign had replaced the original one. Similar in most respects, only the wording was changed, showing a preference for the plural form TURKISH BATHS. In this French Louis Levy postcard, and its close-up detail, Queen Street is seen looking southwards.
Both signs protruded over the entrance to a narrow covered passageway leading to Plume of Feathers Yard, off which a 17th century wooden staircase led to the Turkish baths. The passage now leads to the Cross Keys Shopping Centre.
The postcard is from the collection of the Victorian Turkish Baths Project
This page first published 01 January 2023