Robert James Culverwell, was a baths proprietor and a prolific author of medical and pseudo-medical books and pamphlets, some of which were extremely popular and brought him a healthy income. These ranged from those relating to specific diseases, one on hydropathy, several on aspects of sex before and during marriage, and at least one on bathing. This dealt with the baths available at that time at his establishment in Argyll Place, near Oxford Circus, though it was written some time around 1840, more than a decade and a half before Turkish baths were reintroduced into the British Isles in 1856. Nevertheless, he is of interest to us as two of his establishments later added Turkish baths to their facilities, though not in his lifetime.
Robert's first proper set of bathsólocated, like all his establishments, in Londonówas known as The Lothbury Bathing Rooms, in Founder's Court, Lothbury. This seems to have been successful and he soon set up a second set of baths at 23 New Bond Street, continuing to attend Founders Court in the morning and New Bond Street in the afternoon. This also was not too successful, and in 1847 he took over a baths establishment in the City of London at 5 New Broad Street, where there had been baths of one sort or another since 1817.
This was more successful and aided, no doubt by income from his pamphlets and books, Culverwell took a lease on the house at 10 Argyll Place.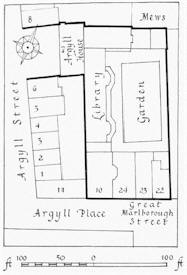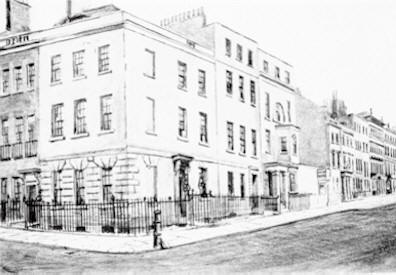 The corner building in the image is No.22 Great Marlborough Street on the plan. Three houses to the left lies No.10 Argyll Place with its library overlooking the garden. Behind the library was the courtyard in which Culverwell built his baths in 1848. The Argyll Baths at No.10A were in the single storey building to the right of the image, and behind the garden on the plan.
The life of Doctor Culverwell, written by himself was published around 1850 and contemporary details of the Argyll Baths appear on its outside back cover.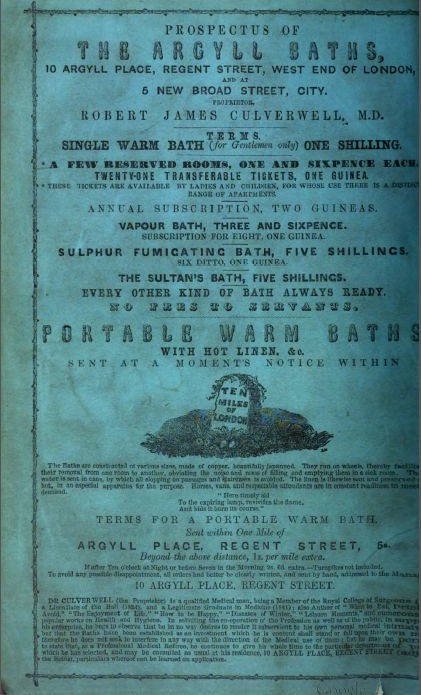 Culverwell died in 1852 and his wife Ann Elizabeth Culverwell continued to run the baths till 1860, when she sold them to the Argyll Baths Company.
In 1861, Culverwell's brother, Major (a forename, not a rank) Richard Culverwell, opened The Post-office Turkish Baths at 19 St Martin's Le Grand, an establishment which was probably used by Anthony Trollope who worked at the General Post Office around that time.

Major Culverwell's son Charles (and Robert's nephew) also became a doctor but soon, changing his name to Wyndham, became well-known as a famous Victorian actor, later to be knighted for his services to the theatre.
This page first published 01 January 2023
A page on The Post Office Baths will appear at a later date