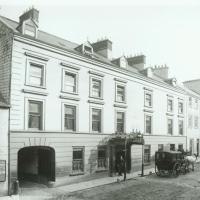 We know that the hotel already offered ordinary baths when the proprietor, John Hughes, sold the Charlemont Arms to Mr J H Mann, some time around 1863-4. When Mann died at the age of 38 in 1888, he was reported to have 'attached Turkish baths' to the hotel 'a few years ago', but terms such as 'a few years' tend to be much longer than supposedly 'remembered' and the hotel was already listed as having Turkish baths in the 1864 valuation records. It seems most likely, therefore, that Mann installed them as soon as he bought the hotel around that time.

They remained open under the proprietorship of Mann's widow Mary until some time between 1892 and 1894. She did try to sell the business during the summer of 1890, but although the hotel and baths were advertised, no sale materialised on this occasion.
During this period the hotel was known rather grandly as Mann's Hotel and Hydropathic Establishment. Some two years later it was still providing Turkish, plunge, and other baths under the proprietorship of Mr James McMahon.
From around 1910 to 1915 the establishment was owned by a Mrs O'Hagen, but it is not known whether the Turkish baths were still open at this time.
The enlarged image of the outside of the building clearly shows the words TURKISH BATHS on the side of the hotel canopy. The photograph comes from the National Library of Ireland's Lawrence Collection of 40,000 glass plate negatives taken between 1870 and 1914.