The Aeratone bath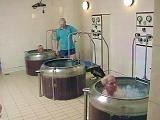 The Aeratone bath is a patented deep circular bath which I have traced in the British Isles, with jets of compressed air which massage the body. A precursor of the Jacuzzi™ whirlpool, which uses jets of water instead of compressed air.
The Aeratone bath, normally used by one bather at a time, is filled by an attendant who ensures that the hot water is at the correct temperature and at the right depth for that particular bather. The time spent in the bath is set by each establishment and can be as long as an hour.
The Aeratone bath was invented by Professor William Oliver and was manufactured from about 1938 until early in the 1950s. The baths are still in use at some Turkish baths establishments including, for example, the Portobello baths in Edinburgh.
The bath is comprehensively treated on pages about its manufacturer, Turbulayr Products Ltd, on Granton's local history website.
This page last updated 01 January 2019